Animal Success Stories
Click a letter to find an animal or
view all
.
Cali
I adopted Riesey (formerly Cali) about a month ago. She's the beautiful Boxer mix in the photos. She is the most loving 60 pound Lap-dog. She's high energy and we walk and play a lot (She receives tons of compliments on her beauty). She also has her calm and super affectionate moments when she pins me down and licks my face. Or we just hang out in my bedroom listening to music. She likes Jason Mraz best. I wake in the morning to hot breath on my face as she has sneaked up onto my pillow to make herself comfortable. In her own way, she tells me every day that she's happy in her forever home. This couldn't have been accomplished without the tremendous help from Diane (foster mom) and Jill (home inspector/interviewer). Their hard work and dedication to LSBR and their love for the dogs shines through with every word they utter. They definitely bond with the rescue dogs and understand that finding them a quality forever home is the ultimate goal. I wish I had their strength. Thank you Diane and Jill for approving our home for Riesey. I could never thank you enough, nor explain the void that has been filled in my life by Riesey. LSBR is AWESOME!!!!!!! So many thanks, Lisa Potthoff, Marta & Riesey!!!!!!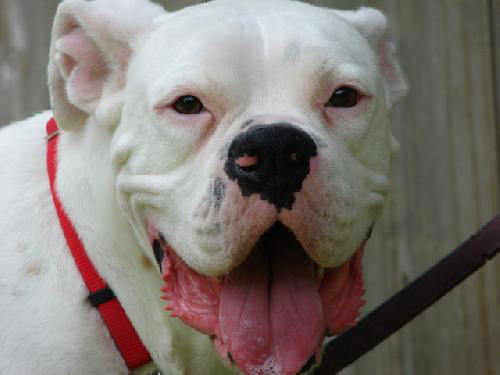 CLETO
I wanted to send you and Lone Star an update on Cleto, who we renamed Gringo (cuz he's a white boy). We came to the Fritz in search of a dog that needed us. We didn't have any particular color, or size in mind, but I knew that I was partial to the white ones. I knew that most people preferred the "boxer look" and it eludes the white ones most of the time. We first saw a male that was very rambunctious and jumpy. He was too high energy for me and my 14 year old daughter. I then asked the volunteer if there were any that had been there a long time and she brought out Cleto. He was docile and didn't seem to care one way or another whether we were there to see him. He was perfect. He is the exact same dog today almost 3 years later. Oh he gets excited to see us when we get home, but really he is just a 70 pound lap dog couch potato. He loves to run FAST and FAR! And loves to take walks. He isn't that into toys, I think they get in the way of his chilling out time. His eyes are so expressive that I swear I can tell what he is thinking half the time. He sleeps on our bed cuddled up right next to me. He LOVES to be covered up, with blankets, pillows, anything you want to put on top of him, he gets cold easily. Well, just wanted to give you a little glimpse into how spoiled this little one has become. We look forward to many many more years with Gringo in our family! Leanne Jones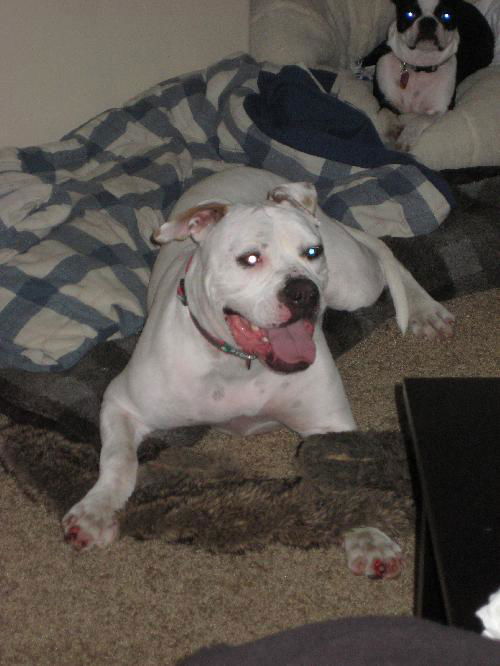 Cloud
Hello all! The day after Valentine's Day, Matt and I went to a Lone Star Boxer Rescue meet and greet intending to take home our very own boxer. We ended up coming home with a 75 pound American Bulldog (maybe a bull/box mix, we have no idea). Cloud is almost 2 years old (and fully grown, we hope). He has a slight neurological disorder that causes him to drag his front feet and be wobbly, making him like an overgrown puppy. He seems to know his strength because he is very gentle, even with crazy Mira. While he looks fairly intimidating, he's a complete goofball and so loving. Cloud has already stolen our hearts. Truly, Beth Petrusek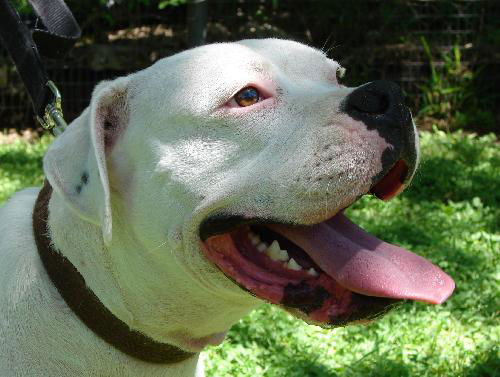 CONNOR
Hi Cindi! I just wanted to write and let you know Conner (now spelled Konn'r) is doing fabulous! We drove that eleven hours home and he slept most of the way. Now he's becoming more comfortable in the surroundings here in El Paso and it's going great. We go to the park and walk up and down the mountain. I take him to PetsMart with me whenever we need something and I always get this herd of people "Oh he's so cute and friendly and I have a boxer too..." lol. It's been really, really amazing how well he has done. So I'm going to attach a few pictures and I hope to be in touch soon!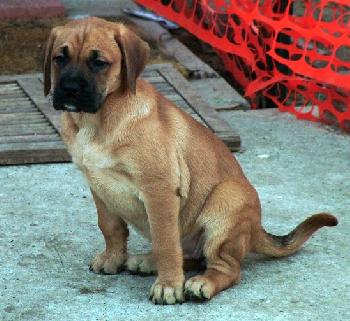 CC
CC is doing great! Potty training is going pretty well. She knows what to do, and does it MOST of the time =) We absolutely love her! I can't believe how lucky we got to get a dog so laid back, smart, and absolutely LOVEABLE!!
Click a letter to find an animal or
view all
.