Animal Success Stories
Click a letter to find an animal or
view all
.
Kindee
Kindee's former foster mom asked if I would like to write a Success Story for Kindee. I couldn't pass up the opportunity. From what I've learned, she was a special part of LSBR. After personally watching LSBR from the sidelines for a few years now, we decided we were in the market for a second Boxer. We came across Kindee's picture and description, and decided that she very much sounded like the dog for our family and vice versa. Three and a half weeks ago, we had our Home Visit and were approved as a LSBR Adopter family. Two weekends ago, Kindee came to meet us to see if we fit her needs. Quite instantaneously, it was known that a match that fit both ways was found. Our week and a half together since has gone even better than I could have hoped. Kindee has blended seamlessly into our big, busy family. She has openly accepted it all without so much as a hiccup. Her manners, temperament and tolerance leave absolutely nothing to be corrected. Food and treats make me a bit cautious with kids around the dogs' level, but Kindee proved completely obedient. She has waited patiently as our toddler, jabbering and slow, helps me fill the bowls, and she has accepted treats with utmost care and gentleness from the kids' fingers. It's also been so joyful to watch Kindee with our 10 year old Boxer, for whom I really wanted a BFF. We've watched Cooper and Kindee run full speed together in the field. It was so exciting to see her comfortable and excited enough to RUN for the first time. She's beautiful stretched out at full-stride. The two of them roll in the grass, lounge in the sun, and stroll through the wooded areas sniffing this and that. Kindee licks Cooper's muzzle in happiness, snoozes with him when they're tuckered out, rides in the backseat together, and goes out for the bedtime potty in the moonlight. Cooper is certainly enjoying her company. When I originally filled out the adoption application, the kids (thinking we would be getting a puppy) were worried that I was getting some "sleepy, old, boring dog," because I wrote that I was looking for more low-keyed, floor lounging, 'flashy" art that I could step over in the kitchen while getting dinner ready. Kindee fits that bill (as she loves to get her snooze and snore on), but she is sooo much more than that. She has matched us step for step in being a part of our family in all that we've done this week, and is HARDLY some old, boring dog!! Happily, the fit is mutual for Kindee, too. I am home all day with her, Cooper and our toddler. Everyone goes out and in to their hearts' content, flops around the house, doing just about anything they want...which is mostly just following Mom around. Can't let me get too far out of sight - true to the Boxer (and toddler) breed!! Paula, Matt, and the LSBR organization have done such a wonderful thing rescuing Kindee, caring for her all this time, waiting on the perfect match-up for her. And, we couldn't be happier to be her match-up! That's Kindee's Success Story! (10/11) ~The Gossett Family
Kaylee
Kaylee( aka KK) was picked up by Laurie to "foster" over Thanksgiving weekend from Champions Forrest Animal Hospital because Laurie couldn't stand knowing Kaylee would spend Thanksgiving without a Family. When Laurie put KK in the car to take her home , KK kept trying to shake her hand as in " nice to meet you ". KK met Frosty( other adopted boxer from LSBR) upon arriving home and they became best friends immediately. After just a few days at our house , she became one of the family and stole our hearts and we couldnt imagine not having he around. Frosty and KK are inseparable they do everything together. Kaylee is so patient with Frosty , she lets him sit on her , jump on her , sleep on her. She has been wonderful for Frosty. Kaylee has become the most behaved dog we have in our house. We love her dearly and she is the sweetest , most tolerant dog and a great addition to our house. KK enjoys going to work with her Daddy and loves her new home. When we return home from being gone, she always runs to the window picks up her baby and jumps up and down and is so happy to greet us. Kaylee loves to travel with us . She fits into her spoiled life well :) Thank you LSBR for another great Boxer !
Laurie McDaniel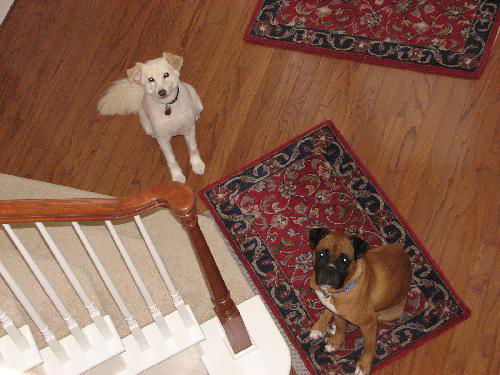 Knox
I wanted to let you know how much we are enjoying Knox. I didn't know boxers could be so much fun! Everything I've read about them is definitely true. He loves his toys but when I'm in the study at the computer he settles down and takes a nap. Since I can't take him on a walk yet I've tried to play with him in the backyard a couple of times a day. He especially like to play in the mornings. His favorite game is keep away with his Wubba Kong. His indoor favorite toy is a smooth rubber ball I found at Target. He slobbers it up and pops it out of his mouth so that it bounces away. That way he can play catch all by himself. I've continued to keep him out of our bedroom and off the stairs. Neeka is even following his lead as far as the stairs are concerned. I've attached a picture of the two of them waiting for me to come back down.
I appreciate all the work you went through to train him in good manners. He's certainly a delight and I'm looking forward to many good years with him by my side.
- Margaret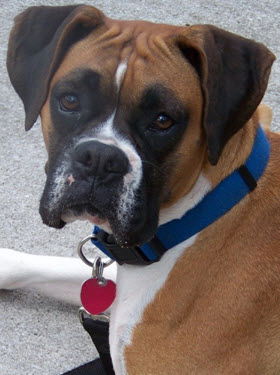 Kurry
Hey – did anybody get the license number of that car that hit me? I swear I never even saw it coming. I guess I shouldn't have been out in the street – but I still think that was just RUDE! My back leg hurt very badly for a while and it didn't work right at all. It actually really got in the way so I guess it's not THAT bad that someone had to take it off. I started feeling better pretty soon.
I went to stay with this really nice lady after my surgery, but then one evening a different lady came to her house and took me with her. That made me kind of nervous but there were fewer dogs at the new house so I didn't get knocked over as much. I was still learning to balance myself on three legs, instead of four. Whew! And forget backing up – that's just not happening anymore. I like the other dogs here and I really like the food. But where I sleep at night is the greatest! I am very polite about it. All I do is go stand by the side of the bed when the lady is in it, and she will come and pick me up, put me in it and let me sleep there all night. The man always says "Spoiled" to me when he sees me there. I don't know what that means but it must be good!
I run really fast now and I am hardly bothered by my missing leg. My new Mom says I am the prettiest girl she has ever seen. I have been eating really well and I feel very strong and fit. I play with my brothers and sister love the attention we get when the people come home. I've never had my very own room with a door to the outside so I think that's pretty cool. Whenever I feel like it, I can go outside and then come back in if I get hot or tired. My sister is VERY funny. She does the strangest things! When these little sticks pop up out of the ground and spray water out all over of the place, she runs around and does her best to "catch" that water in her mouth. I keep trying to tell her she will never win but she just loves the chase. The only time I get irritated is when she decides the water dish is a predator, and drags it out in the yard to attack it. Luckily the people here caught on to her and keep plenty of extra bowls out.
I am really very happy now and I understand what it is to be safe, full, happy and loved. I sure wish I could say thank you to the wonderful people that made it possible for me to have this wonderful forever home. If you see them, could you tell them for me? And tell them that the best part is that I have people who ALWAYS scratch that itch on the side of my neck that I can't get to anymore. All I do is go sit in front of them and give them my best "Look deeply into my eyes" look and they just start scratching it. People can be so cool sometimes!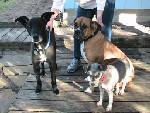 KALLAN
Hi, Paula Ol' "Kali Bear" is fitting right in with our household. She and the boys get along just fine and they are beginning to really play & sleep & eat together. We have really enjoyed having her, she is so sweet, calm,and laid-back. We took her to our vet so he could get a base line on her and everything appeared to be OK. So far, we think Kallan is a really good match for us and our life style.
Click a letter to find an animal or
view all
.