Animal Success Stories
Click a letter to find an animal or
view all
.
Nylah
I just wanted to send an update on Nylah. Things are continuing to go really well for us. In fact, things are going so well that we are searching for a Boxer brother for her. Nylah is great with our children. She checks on them every night before she goes to bed and then checks on them again in the morning. She has done that since the first night that she was with us. She has done really well with basic commands since day one. She will even sit, down, and stay for both of our children, ages 2 and 5. We are beginning agility training next week and we hope that will be a great way to channel some of her Boxer energy. We want to thank Lone Star Boxer Rescue for helping us find the missing piece to our family.
John and Aimee Arnold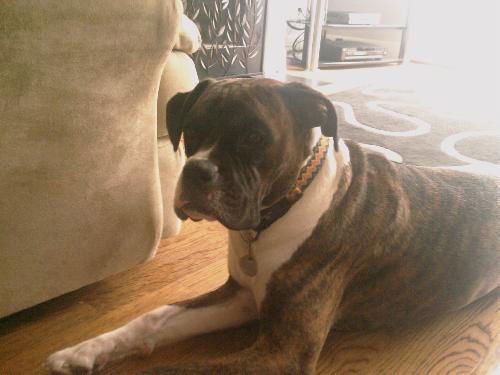 Nate (aka Buddy)
Our boy is doing real well, has put some weight on and is now the brave protector of the house! he had his annual vet visit for shots late summer and came through with a clean bill of heath for heartworm. we are just overjoyed to have him as part of our family! My mum and dad came to visit and just fell in love - they are coming back over in November - I think mainly to visit Buddy than to see me! hehe. Buddy has my dad wrapped around his little claw! we have been practicing at obedience training and he is getting extremely good at his commands. He is sooo intelligent (although can pretend to be oblivious when he wants) and is such a character that he has fit right in at home as the perfect pet. we are looking forward to the cooler weather so we can have longer walks in the park - just a bit too hot for him in the summer. Claire, Russ & the Budster!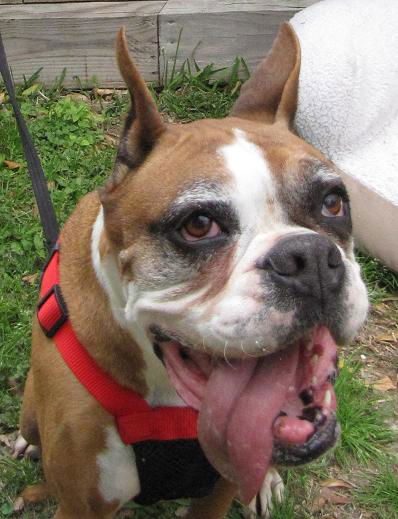 Nikita
I adopted Riker (formerly, Nikita) from LSBR about a year ago. He's been one of the best things to ever happen to me (next to getting married and preparing for our first human child). :-) He's the most amazing guy and he now has a little Sheltie friend (part of the deal when I got married). They get along great. He love to cuddle and go on bike rides with me. Another cool thing... he seemed to know when my wife was pregnant before we did! He has been so gentle around her ever since we found out! Well, here is my favorite photo (of many) and one of the two of us. Thanks LSBR! -- Brandon --
Click a letter to find an animal or
view all
.