Animal Success Stories
Click a letter to find an animal or
view all
.
Blossom (now Razzle)
...Both mamas say I'm a lot taller than I used to be, and that I'm kinda goofy and silly. They sure do laugh a lot when I throw my toys in the air and pounce on them. So I try to do that a lot. And they've started saying something about my wiggle butt coming out more? What the heck is that? I don't know, but I do know I really love my breakfast and my dinner, and my biscuits and my cookies. I love to run and run around my backyard, and sometimes my mamas let me run around Mr. Ed's and Miss Frances' yard. Boy is that fun. Another thing I love to do is look out Mama Chrissy's bedroom window for hours and hours so I can guard the house a lot better, but I can only do that when she's home. And sometimes at night I get on the couch between my mamas and go to sleep. They like that.
So, I really like my new home, and I love my two mamas. They take very good care of me and I take very good care of them. I hope you and Chloe and all those other boxers are doing ok. I hope you can find homes for them that are as good as mine.
Hugs and kisses … Razzle Dazzle (formerly Blossom)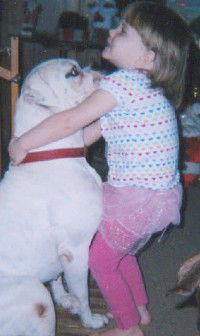 Ben
Hi my name is Ben. I might not be the most regal or handsome of boxers but I have a story to tell. I used to live on the streets and had to fight for what I had but one day I found myself at the Lonestar Boxer Rescue and did not have to fight any more. I had a hard life but I really don't remember much about that any more. I stayed with Lonestar for a long time.
Then one day, after a year or so I'm told, these 2 brindle beauties came to see me. I really liked them a lot and they had 2 humans! One human seemed ok, she didn't get in my face or crowd me at all but the other one was not too sure about me. I heard her say to Ms. Bobbie "he is huge!" and she stayed kind of close to watch me with the girls. After a little bit, I got a little excited and almost knocked her down. I didn't think I would get to see them again after that, but then after a little bit I heard the humans talking and the one with the funny eyes said I could come!
I went with them to a new place that had a lot of grass. After being on my own with just the Lonestar people for company, suddenly I had this huge place to roam around. I had to make the rounds to make sure that everything was ok! It was hard the first couple of weeks because I wasn't use to patrolling such a big area anymore. I had to make the rounds several times a day to be certain that everything was ok, after all, I had 2 brindle beauties to take care of and 2 humans!
Anyway, I am doing much better now. I take care of the little brindle beauty; her tag reads Xena, and the big brindle beauty that they always call Beauty. The little one is still very nervous and afraid, but she did not have Lonestar to help her like I did. So, I have to teach her that she will be okay and she is doing a lot better now that I have been here for a while.
One of the best things I have found here is that I have a cute tiny little human that comes over sometimes! She gives me hugs that pull all my skin up around my head! She sits on my back and uses my ears for handles. I think that she thinks I am her motorcycle or maybe her very own white horse! I like her a lot because she gives me big kisses and hugs! All I can say is that nobody better mess with my humans now!
Thank you Lonestar for finding me the perfect forever home!
Love, Ben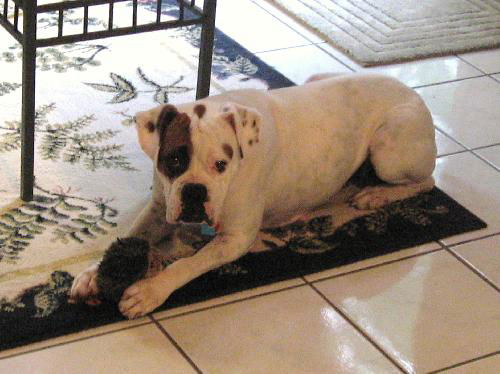 Blanca
We want to update Lone Star Boxer Rescue on our little girl, Bella, we got back in October, 2008. As you can see from the attached pictures, Bella loves her stuffed toys. She and our labrador, Khallie chase each other to see who can carry the toy to Mom and Dad for toss and catch. Bella is an absolute joy to have and she is socializing with the neighborhood dogs and neighbors like a pro. She loves people and gets along with other dogs very well. She is even going on walks with a young dog a neighbor friend adopted and helping Sissy learn her social and walking skills. Sissy just thinks Bella is the cat's meow. During her two sessions for heartworm treatment, the vet clinic staff fell in love with her. She has finished the treatments with flying colors and Dr. McCoy is very happy with the blood tests and Bella's progress. We think Bella is happy to have it all done because she came home after the second course of treatment just full of non-stop smiles. She knows she is in her forever home and is having fun meeting so many new people and dog friends. Her next challenge will be to travel with us with our travel trailer but we just know this social loving girl will take to trailer camping like a duck to water. She is already a pro at car travel. Thank you again for all Lone Star Boxer does for this wonderful breed and thank you for helping us bring this new delight into our lives. She is a true cuddle bug after our own hearts. Keep up the great work and please post this so others can realize what a perfect breed the Boxer is to have in your homes. Shelley Polette Clear Lake City, TX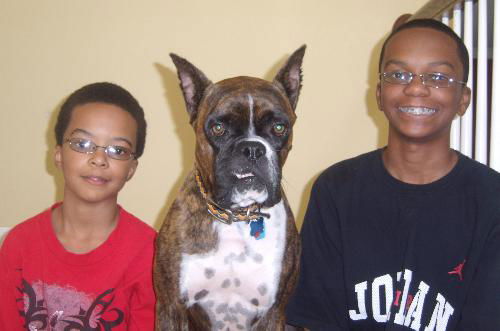 BARRETT
Barrett AKA "Bear" When we lost our 6.5 year old Boxer, Maximus, to cancer last July, it left a huge hole in our family. We raised him from a puppy and he was a huge part of our pack. We knew in our hearts that we could never "replace" Max, but we knew that we wanted another Boxer, because obviously, they're the world's best breed of dog. This time around, we wanted to rescue a boxer to give him or her another shot at a great life. Enter Barrett. It took a while for us to actually get him, but as destiny and fate would have it, we ultimately would up with each other in the end. Barrett could never replace Max, but he's done an outstanding job of coming in and blending seamlessly into our pack. We all love him to death! He's basically a 60 pound teddybear of a lap dog who just so happens to look fierce and mean, but he's got a huge, loving heart of gold. He's also the nosiest, most inquisitive dog we've ever met. Our boys love him and his favority thing to do (behind eating) is to stay about 2" off of their heels at all times. He's our third son, just with two extra legs. Where they go, Bear goes. His most exciting part of the day is when the boys get home from school. He also loves our backyard rough and tumble tow-rope sessions and running free at our local park. Bear is a magnificent Boxer and we are just so appreciative of the good folks over at LSBR (Leanne, Bobbie, and Alicia), who went out of their way and the extra mile to put us together. Thank you for helping Bear to repair and restore our "pack". We love him. Best regards, George Eddings Jr.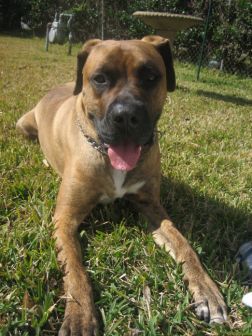 Brutus
Attached are some more updated fotos of Brutus. He is doing fantastic. He has learned to sit, lay, shake with each paw, speak, and jump. He has really made a huge improvement in the last month. We are so thrilled to have Brutus as part of our family. He loves going to the dog park, and playing with all his fellow dog pals. He also enjoys his favorite past time, sleeping. Brutus is a funny boy. He likes to wrestle and body slam, yes, body slam. If he wants to play hard with you, he will literally come running at you, then knock you with his back end. He is one tough and funny dog. Thank you, --- Aurora Hayes, Wayne Taylor, and Brutus ---
Click a letter to find an animal or
view all
.